On-Campus Tailgating Information
Tailgating is for personal entertainment and non-commercial purposes. It is permitted at the designated tailgating areas only on game days and during the times listed below. The University of Texas at San Antonio ("UTSA") may revoke the tailgating privileges of those who do not comply with the laws, rules and regulations of the state of Texas, The University of Texas System Board of Regents and UTSA.
To gain approval fan(s)/group(s) must submit request form found at goutsa.com, two weeks prior to requested date. Guest will receive an email stating approval or denial of request. Approval email will serve as proof of registration and may be asked to be produced at event for verification purposes.
Due to parking constraints, all tailgating is limited to the weekends while school is in session and during academic breaks. Tailgating and setup (including construction of tents and awnings) in the Designated Tailgating Areas may begin three hours prior to game time and must be removed within one hour after the game ends.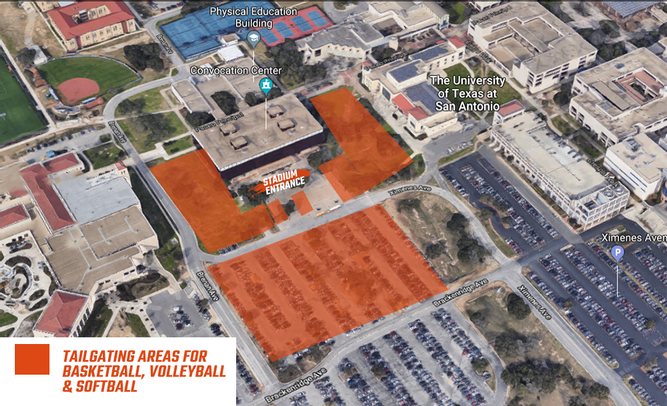 Brackenridge Ave Lot 1 (for basketball, volleyball and softball tailgating) [shown above]
Barshop Lot (for baseball tailgating)
Open areas adjacent to the stadium (for baseball and softball tailgating)
Park West Lot (for soccer and track tailgating)
No tailgating is allowed in all other areas, on campus sidewalks, intramural fields, student residential areas, parking garages, and landscaped areas that are not designated as Designated Tailgating areas.
UTSA is a tobacco-free campus. The use of all tobacco products, including smokeless tobacco, is prohibited at all times.
Possession and consumption of alcohol is prohibited on campus, including the Designated Tailgating Areas. See University policy (HOP 9.16) and the Regents Rules of The University of Texas System (Chapter 6, Subsection 6.5) http://www.utsa.edu/hop/chapter9/9-16.html https://cms.utsystem.edu/board-of-regents/rules/80102-alcoholic-beverages.
However, at game events, the sale of alcohol may be permitted by the authorized concessionaire inside the Convocation Center, the Softball Stadium, Baseball Stadium, Soccer and Track & Field Complex.
UTSA is not liable or responsible for any actions taken by the public or tailgaters while on or off state property or in regards to alcoholic beverage consumption.
The sale of food and beverages is prohibited except for concessionaires authorized by UTSA.
No glass beverages are permitted in the Designated Tailgating Areas. Beverages must be consumed from plastic or paper cups in the Designated Tailgating Areas only.
Tailgaters must dispose of all trash by using the existing trash/recycling units provided by UTSA.
Only licensed motor vehicles may be used on campus streets. Non-UTSA ATVs, personal tractors (on- or off-road), non-licensed UTSA vehicles, golf carts or any off-road vehicles are not allowed on campus.
Roadways, sidewalks, and parking spaces may not be blocked unless authorized by UTSA officials.
All vehicles and/or trailers may not drive or park on the grass.
Do NOT remove or move barricades, barrels, cones, signs, or any other traffic control devices.
Tents must be secured with water ballasts, concrete blocks, sand bags or similar anchor weights. Stakes may not be used to anchor any tent or awning, nor may they be chained to landscaping or signs. Tents larger than 10'x10' are not allowed in tailgating areas unless approved in advance by UTSA Athletics. Items that are set up outside of these specifications or that are in danger of collapsing will be removed by UTSA at the owner's expense.
All tents, fixtures and furniture must be dismantled and secured when not attended.
Tents over cooking appliances must be Fire Resistive per NFPA 701 (ASTM 84 E, California, and New York standards are neither equivalent nor relevant).
Tents used for grilling must be completely open on all sides.
Connecting to UTSA utilities and/or television or communication cable services is prohibited.
It is the responsibility of each individual to secure all personal items. UTSA is not responsible or liable for accidents, damage, loss, theft of personal property. It is strongly recommended that you lock up your valuables. Any person damaging UTSA property is responsible for the total cost of repairs or replacement.
During and after the game, all unclaimed items may be turned over to the UTSA Police Department ("PD"). You may contact them at (210) 458-6247, during weekday business hours, or email LostAndFound@utsa.edu if you have any questions.
Campus Services reserves the right to refuse service or sale of space(s) to anyone, within its discretion.
At its discretion, the UTSA PD may terminate tailgate parties, or take other appropriate action toward individuals, groups, or organizations whose conduct is in violation of or conflicts with the outlined Policy and applicable laws and regulations. Failure to comply with directions from UTSA PD or other university officials may result in eviction from UTSA property without a refund of services.
UTSA, UTSA Athletics, UTSA PD, and Campus Services reserve the right to refuse service or evict anyone at any time – inappropriate behavior may result in the permanent loss of all parking and tailgating privileges.
Unauthorized vehicles will be towed or relocated at the owner or operator's expense. If your vehicle gets towed, you may contact Banis Towing Service at 210-647-3994 for its location and payment.
In case of an emergency, call 210-458-4911. For non-emergencies, call the UTSA PD at (210) 458-4242.
Specific questions about this policy can be addressed by Athletic Events Management Staff at 210-458-4183.